Staff Training
Fit learning into your busy schedule with access to on-demand training modules, downloadable PDFs, live webinars, and tools to educate your staff and end users any time of day or night.

Getting Started with Sora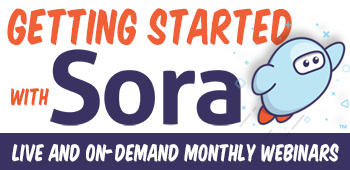 Learn how easy it is to get started with Sora, the student reading app!
We'll show you how to browse and borrow ebooks and audiobooks, and tips for customizing the reading and listening experience in Sora. The webinar will also review where to find help and free, customizable Sora marketing resources.
This webinar is great for partners new to OverDrive and for anyone who would like a refresher on the student user experience.