Our Collection Development Librarians are here to help. We create recommended lists and catalogs based on reviews, media coverage and more, with the best hand-picked titles. We also highlight the latest sales and promotions!
Questions? Contact your Collection Development Specialist or email us at educationteam@overdrive.com.
This collection of lists is curated by OverDrive's Collection Development librarians and is your source for building the best collection for your community. We scour Marketplace to find the newest, most popular, highest circulating, and interesting content. The recommended list pages are continually updated, so check back often!
OverDrive's Collection Development Librarians—at your service!
We're a team of trained librarians and book lovers, ready to help you select, manage, and curate content in your library's digital collection.
What We Do:
Create suggested carts customized for your school
Help you manage expiring content
Curate personalized collections for your library's homepage
Compile Recommended Lists based on trending topics, starred reviews, themes and holidays, and more—perfect for curating!
Contribute our collection expertise to the OverDrive Blog
Chat about books on the Professional Book Nerds Podcast… and more!
Contact educationteam@overdrive.com to get in touch with your region's OverDrive Librarian and learn about how we can help you optimize your library's collection.
Melinda Helfer
---
Manager, Education Collection Development
Loves to read: Literary fiction, young adult, middle grade, historical romance, thrillers, narrative nonfiction, epic fantasy and sometimes mystery.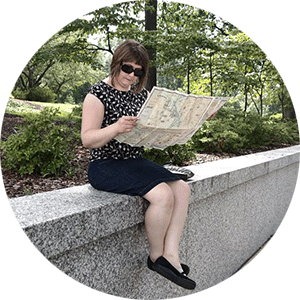 Liz Tousey
---
Manager, International Collection Development
Loves to read: J/YA, literary fiction, pop nonfiction, fantasy, sci-fi, steampunk, romance… I'll pretty much read anything with a good review from a trusted source.
Bethany Porter
---
Content Specialist
Loves to read: Children's, YA, graphic novels, short stories, essay collections, science fiction and fantasy, family dramas, audiobooks, books in verse, and anything written by Neil Gaiman.
Rebecca Dluback
---
Content Specialist
Loves to read: All fantasy, adult historical fiction, dystopian, humor, literary fiction, a tiny bit of sci-fi, and anything by Stephen King.
Sarah Wilsman
---
Content Specialist
Loves to read: Realistic Fiction (adult and youth), Printz and Newbery contenders, mysteries, listens to memoirs and nonfiction on audio and will immediately read anything by Jason Reynolds.
Sheila Henline
---
Content Specialist I
Loves to read: Children's, fairy and folk tales, young adult, dystopian, historical fiction, cozy mysteries, romance, biographies, gardening, cookbooks, and Harry Potter.
Annie Suhy
---
Content Specialist I, International
Loves to read: Biographies and memoirs, poetry, self-improvement, nonfiction of all kinds, and cookbooks (mostly for the pictures).
Elissa Miller
---
Content Specialist I, International
Save money and stock up on titles from OverDrive Marketplace and our leading catalog of publishing partners. See the latest discounts and special promotions and get a sneak peak of upcoming sales.
CURRENT & UPCOMING CONTENT SALES