Libby Showcase
Libby Showcase is our user-friendly, interactive discovery kiosk software designed to raise awareness and increase access to your digital collection. It highlights titles from your library's collection, giving users the opportunity to explore and familiarize themselves with your content.
Libby Showcase works on devices ranging from tablets to large screen displays.
What is Libby Showcase?
---
Users can search and sample titles. When they find something they like, they can easily send title links via text*, email, or generate a QR code to borrow the title in Libby to start reading right away. If a user doesn't yet have the Libby app installed on their phone or tablet, Libby Showcase provides a QR code for that, too!
*Please note the availability of SMS text messaging for Libby Showcase varies by geographic region. Please contact your Account Manager with any questions.
It's easy to customize so you can ensure it best fits the needs and interests of users at your library. You can use the showcase to:
Display new titles in high traffic areas of your library
Draw attention to non-fiction materials in the reference section of your library
Promote your digital collection at a local community center
A few features of Libby Showcase
---
A few features of Libby Showcase
---
You can display Libby showcase on any touchscreen device, ranging from iOS and Android tablets to large touchscreen displays. Or use the optional display-only mode to promote your digital collection on any monitor.
Admin tools within Libby Showcase allow your library to customize its display. For example, you can set up an instance of Libby Showcase in the Youth area of your library that highlights books for kids and teens, or a Magazine Showcase in the periodicals section.
Your library has free, unlimited access to the Libby Showcase software. You can set up multiple instances of Libby Showcase (by library building, location in your library or community, etc.)—all for free. Note that OverDrive provides the software for Libby Showcase, but your library is responsible for providing the hardware.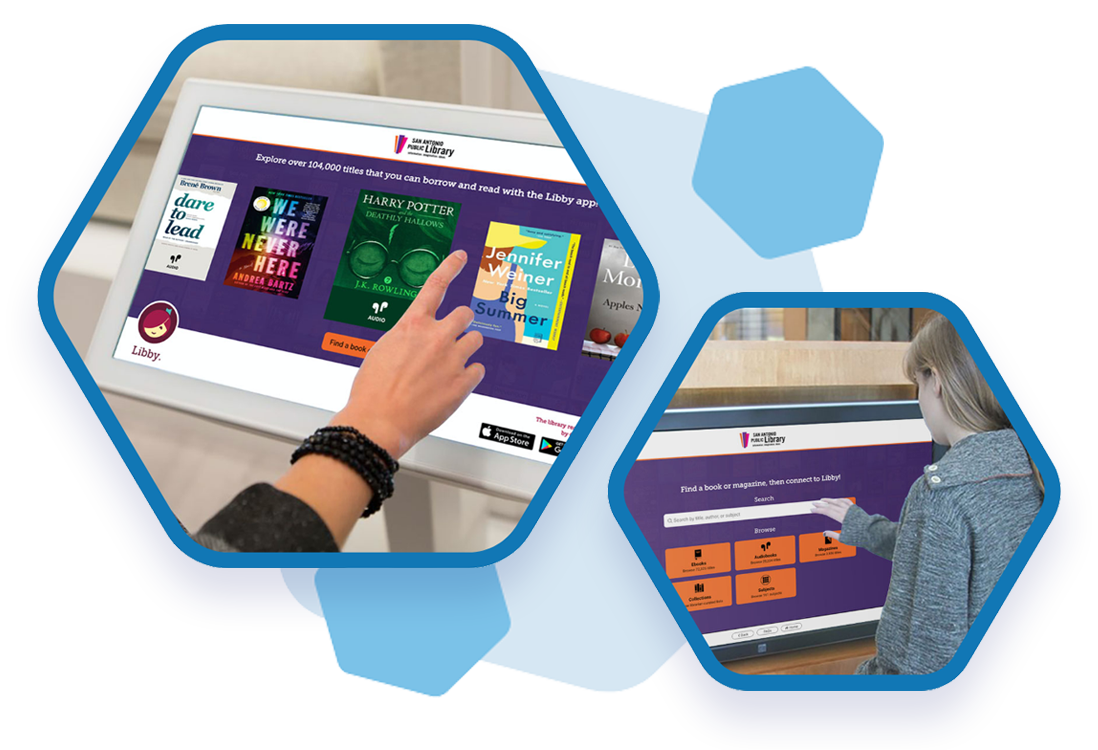 To get your library's own Libby Showcase or discuss display options, contact your Account Manager
Frequently Asked Questions
---
No matches were found
Try browsing our topic.