Marketing & Outreach: K-12 Schools
Get the word out about your OverDrive collection with our free resources to print, distribute, or share digitally. We can work with you to customize materials for your school! Contact us.
What's trending?
Check here every month for a rotation of new and timely promotional resources.
Use our icons to see what's included in our kits:
– Bookmarks
– Posters, flyers, & other print assets
– Website/Social Media Graphics
– Instructions/Guides
– Stickers/Tattoos
Want to customize materials or request a donation?
Work with your OverDrive Account Manager or contact us for more information!
Social Spotlight
Read an Ebook Day is September 18th. Encourage readers to read an ebook in celebration of the holiday.
Download the graphic and copy the suggested text below to share on your Facebook, Twitter, or Instagram. Don't forget to use #ebooklove for a chance to win a Kobo Reader and Libby swag. Learn more.
Student Reading Assessments
Additional Worksheets
Story Elements
Students are instructed to display their understanding of story's elements: title, characters, setting and problem from a book of their choice.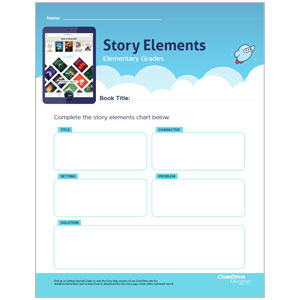 Download
|
Preview
Try This: Engage New Readers
Social media is often the preferred means of communication among students. Use that to your advantage! Connect with students outside the library using fun graphics and popular hashtags from the Engage New Readers Kit.
Post on your regular channels and let the hashtags do the rest. They'll bump your post to popular subject searches and connect with users who may not typically frequent your pages. #newreaders #lookhoweasyitis
In Case You Missed It
items