Marketing & Outreach: K-12 Schools
Get the word out about your OverDrive collection with our free resources to print, distribute, or share digitally. We can work with you to customize materials for your school! Contact us.
What's trending?
Check here every month for a rotation of new and timely promotional resources.
Use our icons to see what's included in our kits:
– Bookmarks
– Posters, flyers, & other print assets
– Website/Social Media Graphics
– Instructions/Guides
– Stickers/Tattoos
Want to customize materials or request a donation?
Work with your OverDrive Account Manager or contact us for more information!
Social Spotlight
November's Big Library Read book pick is the YA title, I'm Not Dying with You Tonight, by Kimberly Jones and Gilly Segal. It's an opportunity for everyone to read and discuss the same digital title at the same time without any wait lists or holds.
Download the graphic and copy the suggested text below to share on your social media accounts. Click here for more marketing materials for the BLR title.
Student Reading Assessments
Featured Title
I'm Not Dying with You Tonight
By Gilly Segal and Kimberly Jones
Grade Level: 9-12
Encourage students to think critically about what they are reading with these discussion questions about November's Big Library Read title, I'm Not Dying with You Tonight. Themes include race, family relationships, and friendship.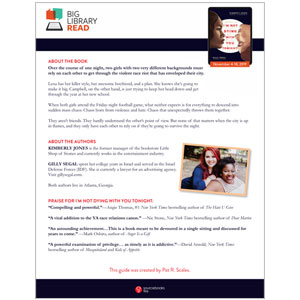 Download
Preview
Additional Worksheets
Story Elements
Students are instructed to display their understanding of story's elements: title, characters, setting and problem from a book of their choice.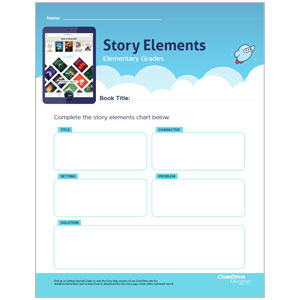 Download
|
Preview
Try This: School + Library Sharing Halfsheet
Did you know your students can access their public library through Sora? This printable half-sheet details how.
In Case You Missed It
items