Oh, snap! It's almost time for our 2024 School Stars contest! The contest will run from February 5th – March 29th, 2024. Check back here for the 4-1-1 and all contest details.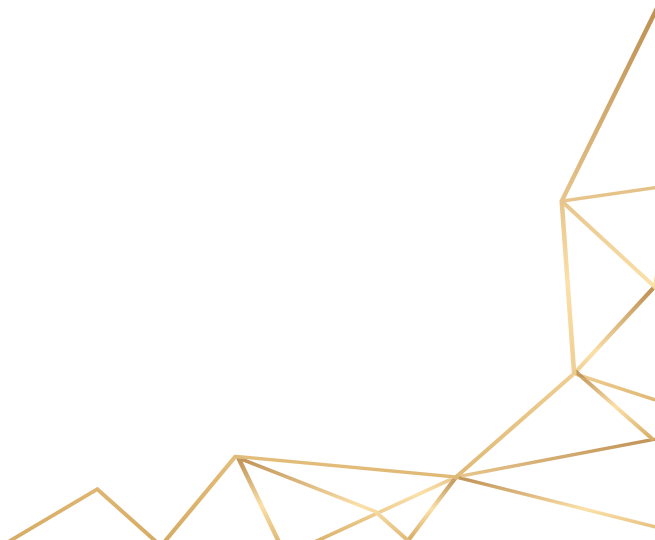 2024 Contest Categories
---
Best in Visual/Virtual Display or Bulletin Board
Share your best visual or virtual Sora display! This could be anything from a compelling Zoom background, a unique bulletin board, or a towering display case.
Best in Social Media
Share how you promoted Sora across your social networks (Facebook, Twitter, Instagram etc.) to engage your school community.
Best Community Engagement
Have you spread the word about Sora beyond the classroom? Share how you have achieved the buy-in of your community; whether it's through partnering with the local library (Public Library CONNECT), encouraging parent/guardian engagement, increasing faculty and admin. support, etc., we want to hear about it!
Best use of Sora in the Classroom
Show us how you have integrated Sora into the classroom to support your learning objectives with lessons, activities, or assignments.
Best Student-Made Submission
Sora's impact on your students fuels our work. Share how your students have shown their love for Sora and spread that love to their classmates. Maybe it was a fun video, presentation, or even a song! We welcome all mediums.
Check out our 2023 Totally Tubular Winners!
---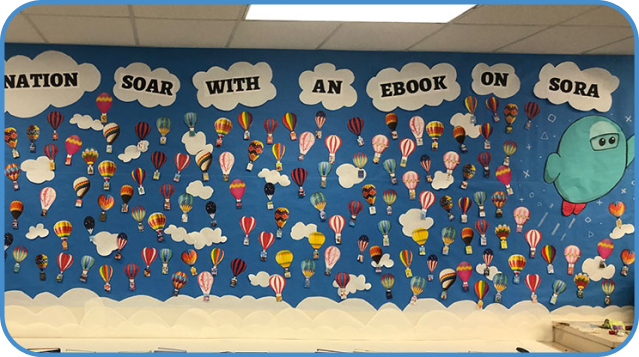 Best Visual/Virtual Display:
Rolling Hills Elementary/ FSUSD
Sora can help my student's imagination soar with an ebook! When students visit the Sora bulletin board at Rolling Hills Elementary, they can see the books that can bring their imagination to new heights, places and adventures. They always get carried away with the selection that's available to them in Sora and the fact that they can look for a new favorite book at home without having to come to the library!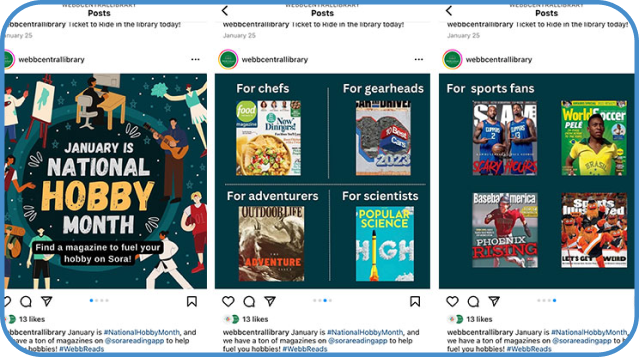 Best in Social Media:
Webb School of Knoxville
In January, we used National Hobby Month to highlight our Sora magazine collection. For each hobby, we chose 1-4 different magazines to highlight, so we had magazines for music buffs, gamers, sports fans, gearheads, chefs, scientists, and adventurers. In addition to the post on Instagram, we also sent out the hobby and magazine pairings in our weekly student newsletter.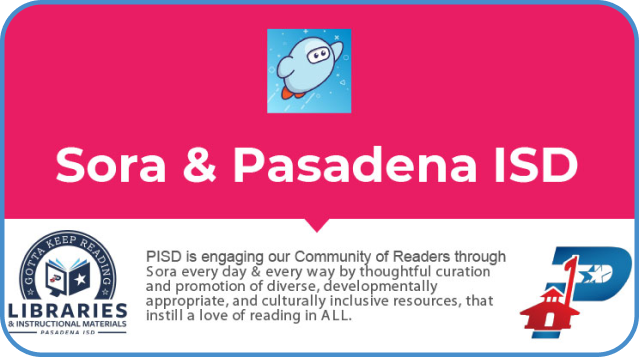 Best in Community Engagement:
Pasadena ISD
Pasadena ISD uses a wide range of methods to ensure our community is aware and has access to a variety of resources in Sora to promote a love for reading anytime and any place. PISD engages our Community of Readers through district-wide social media posts, training materials, advertising through events, building technology and easy access through district sites and promotion at district meetings. Our curated lists are attention grabbing and provide our Community of Readers with the best, age appropriate, quality and diverse titles, to educate, entertain and celebrate reading! Our partnership with key stakeholders and public library provide additional resources.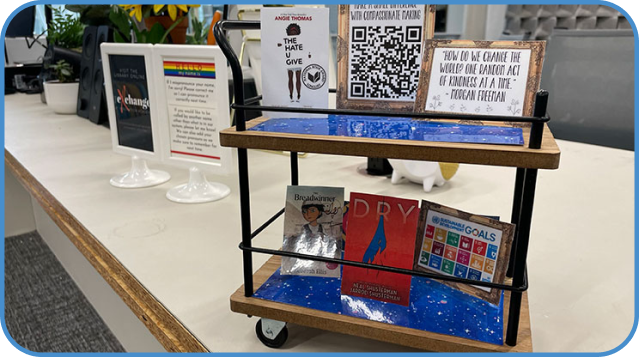 Best in Sora in the Classroom:
Innovation Academy/Fulton County Schools
Martha Bongiorno of Innovation Academy (part of Fulton County Schools) took the concept of a tasting event and applied it to STEM books. Students were given the opportunity to "taste" different varieties of titles in Sora across multiple disciplines to support the United Nations Sustainable Development Goals (SDGs). Martha said, "During the event, students were divided into groups and rotated through different stations, each focused on a different SDG. At each station, students were provided with a selection of ebooks related to the SDG, and given time to "taste" each book by reading a chapter or section."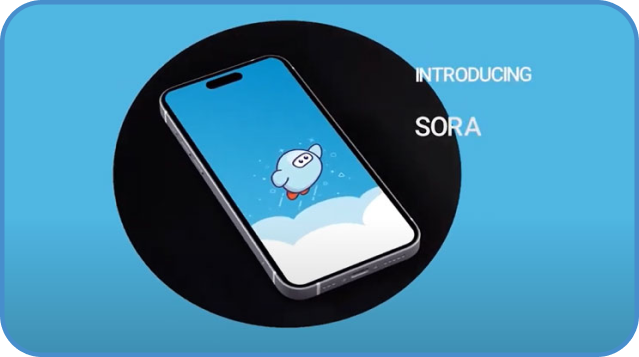 Best Student-Made Submission:
Nanaimo District Secondary School
Grade 12 student, Kurt Lindo, created a SORA commercial for us to use to introduce students to the app.
About School Stars
---
Schools Stars is a global contest aimed to celebrate how schools promote Sora. For 2024's contest, we're looking for how your school has promoted Sora in the 2023-2024 school year (August 2023 – Time of entry). Past entries have included videos, visual displays and bulletin boards, social media campaigns, and student created resources. We think anything you do to promote Sora is totally rad and we can't wait to see your entries for 2024!
2024 Official Rules Coming Soon
No prizes? As if! Check back soon for a list of our fly prizes for 2024
---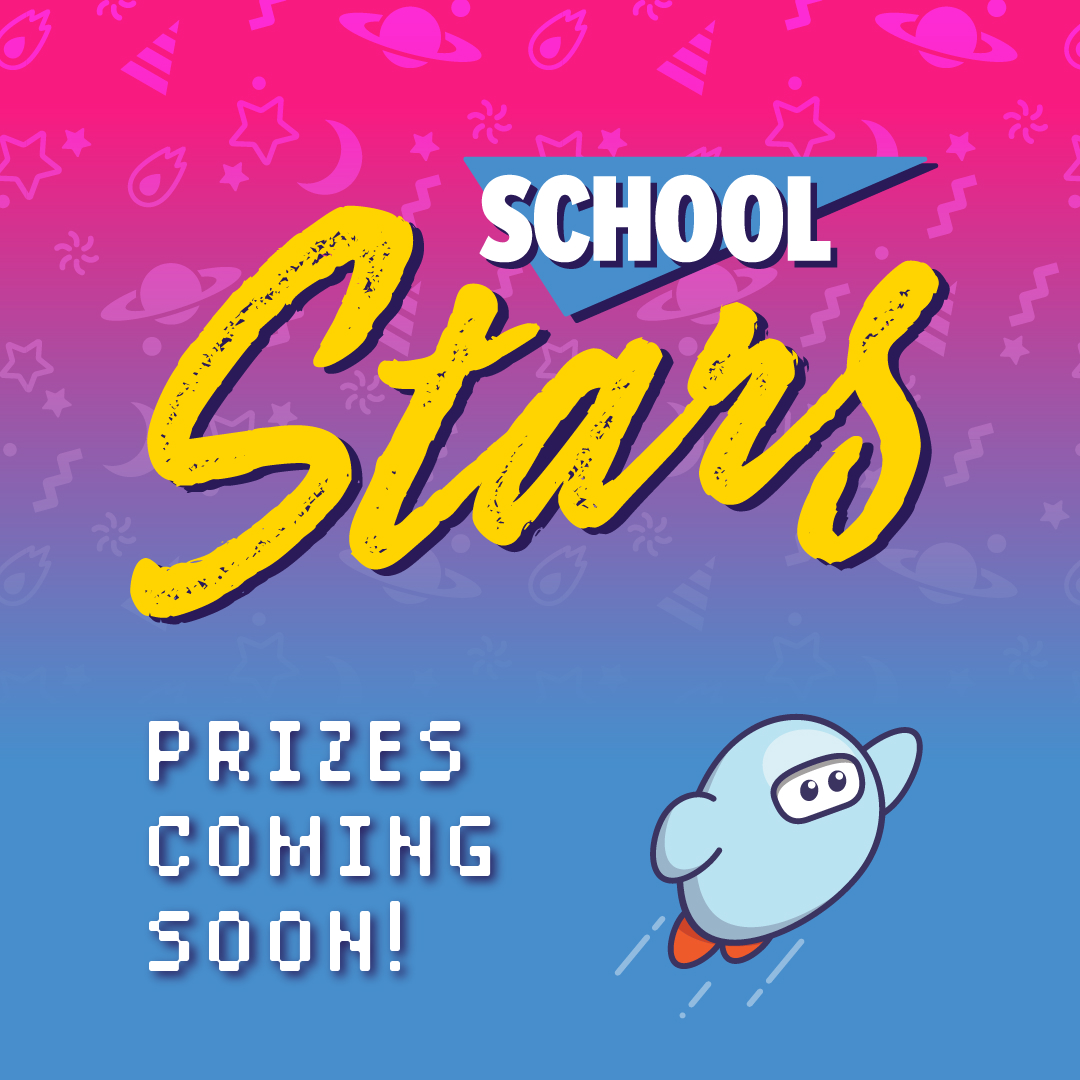 Reach for the (School) Stars – Webinar
---
Christina Samek, OverDrive Outreach Specialist, and Sarah Sansbury, winner of the 2019 OverDrive School Stars program, discuss print and social media resources to engage students, parents, staff, and other members of the school community in low- and high-tech ways. No time? Tiny budget? Christina and Sarah share their favorite tips and success stories, and walk listeners through the hows and whys of submitting entries to the program.



https://training.cdn.overdrive.com/K12/Webinars/Reach_For_The_School_Stars-Jan2020.mp4
Check out 2021's winners
---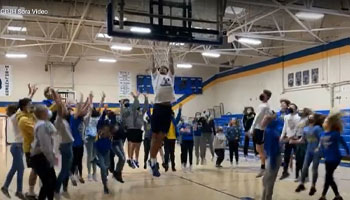 Gatlinburg-Pittman Jr. High School (Grand Prize)
Sally Helton, Library Media Specialist, let us know they had only recently adopted Sora at their school —launching the platform on March 1, 2021. Her team decided to borrow themes from the very popular March Madness craze to introduce Sora to students. They used targeted social promotion but their centerpiece was their March Madness-themed Sora "hype" video. Great work, team!
---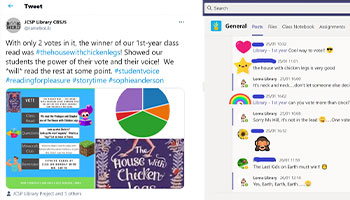 JCSP Library Project Digital Library
Librarian Lorna Vogelsang let first year students vote on their online class read by creating a vote tool on Teams (a student system) based on titles that were always available in their Sora collection. This inspired a rousing debate that spilled over online. According to Lorna, students "were able to see the power of their voice and their vote, because the winning title only won by two votes!"
---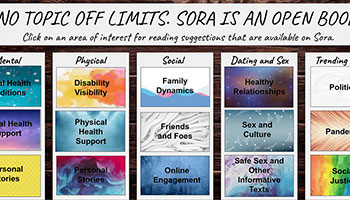 Laurel Public Schools
Per Librarian Mikayla Hirschkorn, "Sora is such a fantastic resource for students wanting to check out books on sensitive topics while maintaining privacy." The display, sent out via email, features some of these sensitive topics and linked directly to Sora for instant check-outs.
---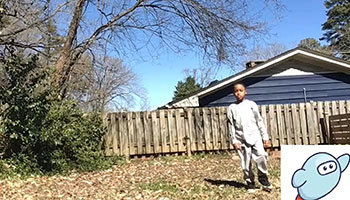 Durham Public Schools
Per Library Staff Kathryn McCullen, one of her 4th graders heard about School Stars and got right to work on this amazing and suspenseful video. What a talent!
---