Schools Stars is back and once again we want to know how you are promoting Sora, the student reading app, this school year!
Enter the contest for a chance to win content credit, Feb 3 – March 31.
About School Stars
Schools Stars is a global contest aimed to celebrate how schools promote Sora. This year we're looking for how your school has promoted Sora in the 2019-2020 school year (August 2019-Present). Past entries have included videos, visual displays and bulletin boards, social media campaigns, and student created resources. Aim for the stars but know no promotion is too small!
Multiple chances to win
This year we're looking for entries in these categories:
Best in Social Media
Best in Student Participation – Teens
Best in Student Participation – Young Readers
Best Bulletin Board/Visual Display
Best in Classroom Use or Activity
Prizes
2020 prizes will be awarded in content credit to help you grow your digital collection. This year we're rewarding:
Best Overall – Grand Prize: $2500 USD
Best in Category: $500 USD
Best in Category – Runner Up: $250 USD
Additionally, 5 entrants will receive $100 USD simply for entering!
Reach for the (School) Stars – Webinar
Christina Samek, OverDrive Outreach Specialist, and Sarah Sansbury, winner of the 2019 OverDrive School Stars program, discuss print and social media resources to engage students, parents, staff, and other members of the school community in low- and high-tech ways. No time? Tiny budget? Christina and Sarah share their favorite tips and success stories, and walk listeners through the hows and whys of submitting entries to the 2020 School Stars program, running from February 3, 2020 through March 31, 2020.



Check out last year's winners, See all winners
River Trail Middle School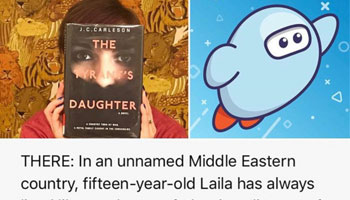 Three cheers for our Grand Prize winner, River Trail Middle School, part of the Fulton County Schools in Atlanta, Georgia. Media Specialist Sarah Sansbury maintains an active social media presence to engage with her students in the space they hang out most: online. She posts on her media center Instagram (@RTMSreads) sometimes daily, using both the feed and Instagram stories.
Colorado City Unified School District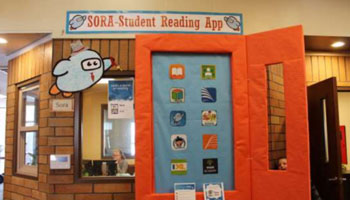 The Colorado City Unified School District in Arizona made Sora the center of their literacy month, "Soar through the World of Genres." They created a giant Sora display complete with promotional and informational items for students and parents. Teachers also decorated their classrooms and designed their curriculum around assigned genres, again featuring Sora.
Charlotte High School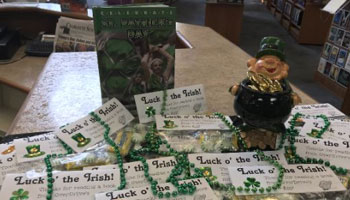 Media Specialist Tara Cain of Charlotte High School in Punta Gorda, Florida, appealed to her students' sweet tooth by offering "treats" to students and teachers who checked out books in Sora during particular time periods. March's items were St. Patrick's Day themed. What a way to perk interest!
Maple Grove Public School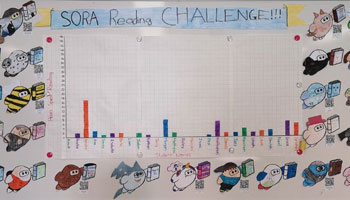 Teacher Kim Oxley and her fifth-grade students at Maple Grove Public School in Midhurst, Ontario, went above and beyond with their interactive bulletin board promoting Sora. According to Oxley, students "come into the classroom each morning looking forward to updating our graph." She notes "this has been a great way to promote a love of reading among the students!"