School Stars will return in February, 2021. We'll be looking for all the ways YOU promote Sora in your school. See you, then!
About School Stars
Schools Stars is a global contest aimed to celebrate how schools promote Sora. Past entries have included videos, visual displays and bulletin boards, social media campaigns, and student created resources. We ask you aim for the stars but know no promotion is too small!
Reach for the (School) Stars – Webinar
Christina Samek, OverDrive Outreach Specialist, and Sarah Sansbury, winner of the 2019 OverDrive School Stars program, discuss print and social media resources to engage students, parents, staff, and other members of the school community in low- and high-tech ways. No time? Tiny budget? Christina and Sarah share their favorite tips and success stories, and walk listeners through the hows and whys of submitting entries to the 2020 School Stars program, running from February 3, 2020 through March 31, 2020.



Eric S. Smith School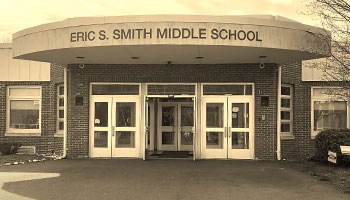 According to Librarian Nicole Wohlrab, students at Eric S. Smith Middle School in Ramsey, NJ, challenged themselves to come up with ways to promote the Sora reading app in their school to attract new student users. We think they nailed it with this hilarious video!
Autrey Mill Middle School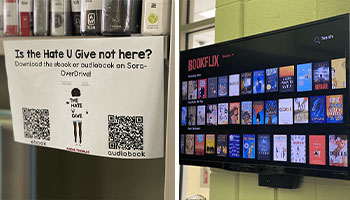 "Students don't know, until they know," notes Martha Bongiorno, media specialist at Autrey Mill Middle School (GA). Bongiorno uses visual displays coupled with QR codes to alert her students of all the great titles in Sora.
Atascocita Middle School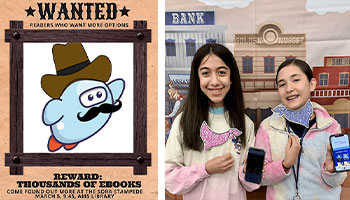 We loved the SORA STAMPEDE staged by Atascocita Middle School (part of Humble ISD in Humble, TX). Media Specialist Brooke King hosted the activity to promote Humble ISD's new Public Library CONNECT partnership with Harris County Public Library.
River Trail Middle School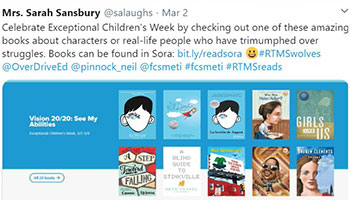 Last year's grand prize winner, Media Specialist Sarah Sansbury at River Trail Middle School (GA), has done it again. In 2019, she won due to her innovative use of social media, and she continues to inspire in 2020. This year, she focused her efforts on access to the public library.