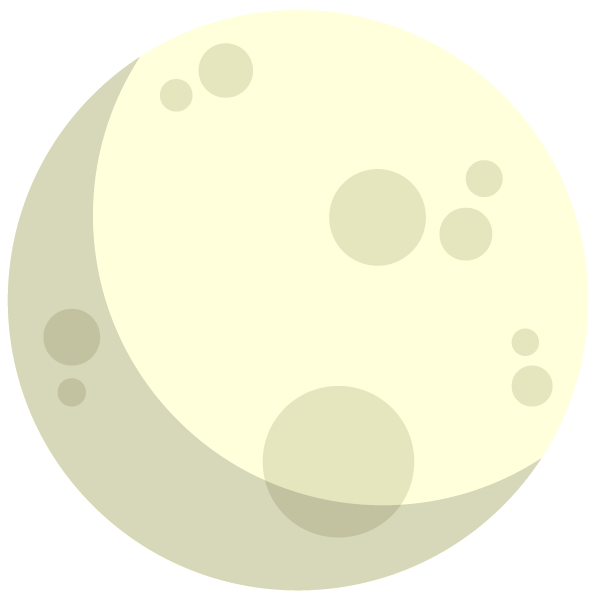 February 6th – March 31st
We'll be looking for all the ways YOU promote Sora in your school. We can't wait to see you Shoot for the Moon!
Enter here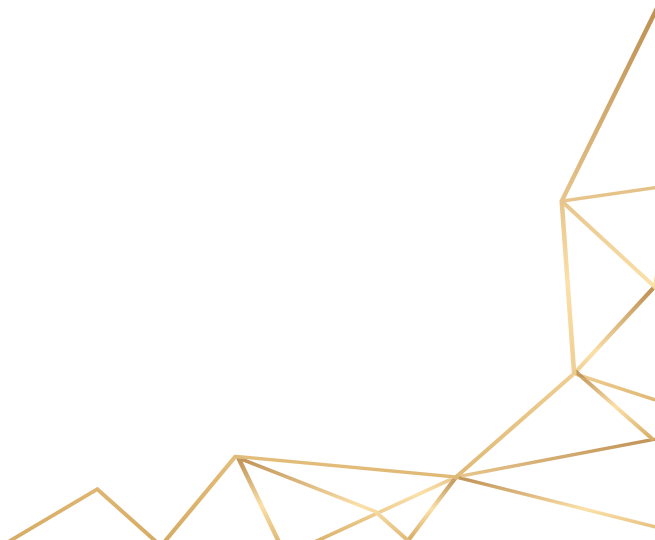 Check out 2022's winners
---
Grand Prize: Pasco County School District
Susan Forgas, Resource Management Associate at Veterans Elementary School (part of Pasco County School District in FL), and her team of students blew us away with this stunning reimagined cover of How Far I'll Go from the Moana soundtrack, originally written by Lin-Manuel Miranda and performed by Auliʻi Cravalho.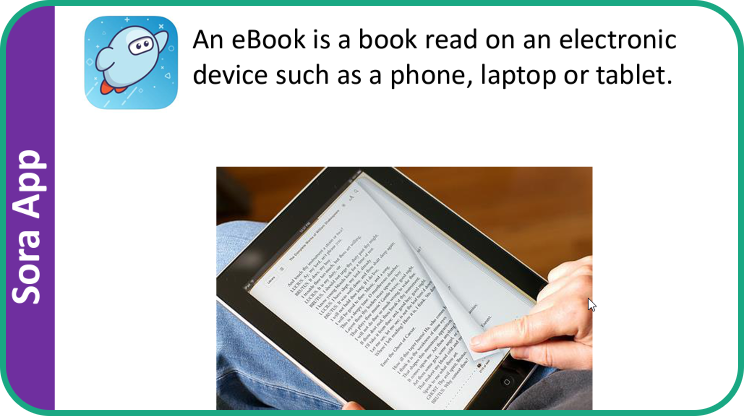 Best in Community Engagement:
Ark Elvin Academy
(Secondary Ebooks NOW)
When Ark Elvin Academy Librarian Jo Jenner saw how Sora increased library usage at her school in the UK, she resolved to make Sora a permanent fixture in her library service. Pupils at Ark Elvin receive a dedicated Sora lesson, delivered by the Computer Science department. Jenner notes "this is a great way to show pupils that reading and using the library are whole-school activities – not limited to the English curriculum."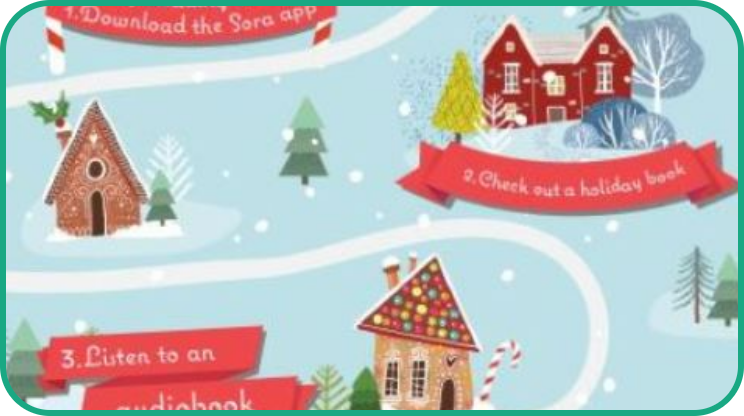 Best in Social Media:
Fresno Unified School District
Fresno High Librarian Sue Navarro, part of Fresno Unified School District in CA, used materials from OverDrive's Resource Center in a fun, creative way on her social channels. She used the Holiday Reading challenge to encourage reading over break and added a little incentive on Twitter, writing: "Send ME a picture of you reading under a blanket and I'll send YOU a cozy Fresno High blanket to wrap up in!"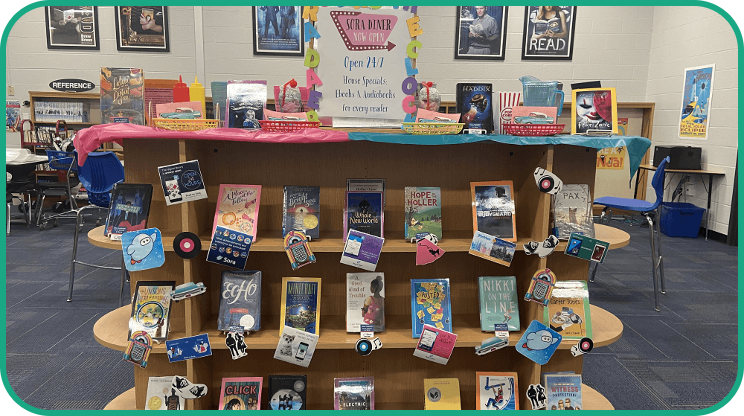 Best Visual/Virtual Display:
Williamson County Schools
Grassland Middle School Library Assistant Amanda Spain, part of Williamson County Schools in TN, channeled a 50s diner to highlight Sora's 24/7 availability in this adorable and engaging display.
---
2023 Categories
---
Best in Visual/Virtual Display or Bulletin Board
Share your best visual or virtual Sora display! This could be anything from a compelling Zoom background, a unique bulletin board, or a towering display case.
Best in Social Media
Share how you promoted Sora across your social networks (Facebook, Twitter, Instagram etc.) to engage your school community.
Best Community Engagement
Have you spread the word about Sora beyond the classroom? Share how you have achieved the buy-in of your community; whether it's through partnering with the local library (Public Library CONNECT), encouraging parent/guardian engagement, increasing faculty and admin. support, etc., we want to hear about it!
Best use of Sora in the Classroom
Show us how you have integrated Sora into the classroom to support your learning objectives with lessons, activities, or assignments.
Best Student-Made Submission
Sora's impact on your students fuels our work. Share how your students have shown their love for Sora and spread that love to their classmates. Maybe it was a fun video, presentation, or even a song! We welcome all mediums.
About School Stars
---
Schools Stars is a global contest aimed to celebrate how schools promote Sora. For 2023's contest, we're looking for how your school has promoted Sora in the 2022-2023 school year (August 2022 – Time of entry). Past entries have included videos, visual displays and bulletin boards, social media campaigns, and student created resources. We'd love to see you shoot for the moon but know no promotion is too small!
2023 Prizes
---
Our prizes will be announced in early 2023. Stay tuned!
Grand Prize Winner
(1 winner)
Best Overall:
$2500 USD 
in Content Credit PLUS 1,000 Silicone Sora Bracelets
Category Winners (1 per category): $500 USD in Content Credit
Category Runner-Up (1 per category): $250 USD in Content Credit
All winners will receive one (1) School Stars Winner poster and a digital School Stars winner badge to celebrate your win in your school and online.
Reach for the (School) Stars – Webinar
---
Christina Samek, OverDrive Outreach Specialist, and Sarah Sansbury, winner of the 2019 OverDrive School Stars program, discuss print and social media resources to engage students, parents, staff, and other members of the school community in low- and high-tech ways. No time? Tiny budget? Christina and Sarah share their favorite tips and success stories, and walk listeners through the hows and whys of submitting entries to the program.



https://training.cdn.overdrive.com/K12/Webinars/Reach_For_The_School_Stars-Jan2020.mp4
Check out 2021's winners
---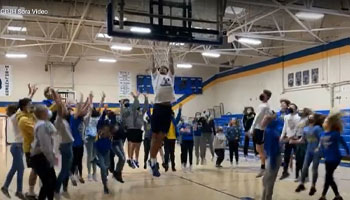 Gatlinburg-Pittman Jr. High School (Grand Prize)
Sally Helton, Library Media Specialist, let us know they had only recently adopted Sora at their school —launching the platform on March 1, 2021. Her team decided to borrow themes from the very popular March Madness craze to introduce Sora to students. They used targeted social promotion but their centerpiece was their March Madness-themed Sora "hype" video. Great work, team!
---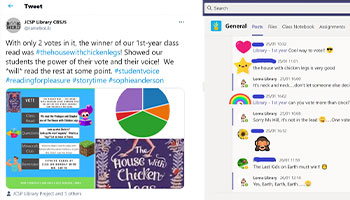 JCSP Library Project Digital Library
Librarian Lorna Vogelsang let first year students vote on their online class read by creating a vote tool on Teams (a student system) based on titles that were always available in their Sora collection. This inspired a rousing debate that spilled over online. According to Lorna, students "were able to see the power of their voice and their vote, because the winning title only won by two votes!"
---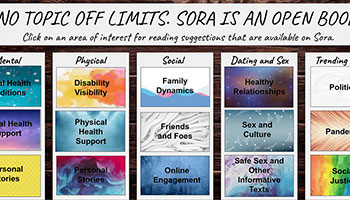 Laurel Public Schools
Per Librarian Mikayla Hirschkorn, "Sora is such a fantastic resource for students wanting to check out books on sensitive topics while maintaining privacy." The display, sent out via email, features some of these sensitive topics and linked directly to Sora for instant check-outs.
---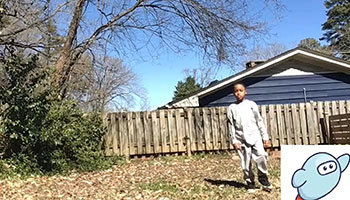 Durham Public Schools
Per Library Staff Kathryn McCullen, one of her 4th graders heard about School Stars and got right to work on this amazing and suspenseful video. What a talent!
---