Accessibility Features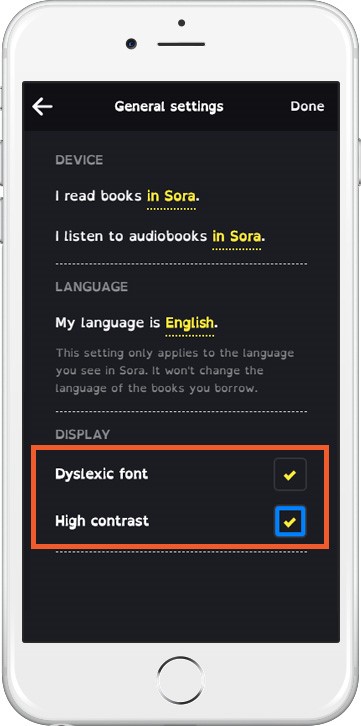 Dyslexic font and high contrast mode
Sora offers dyslexic font and high contrast settings throughout the app's interface and in individual ebooks.
Dyslexic fonts can help alleviate some symptoms of dyslexia, like the turning and swapping of letters. For those with low vision, high contrast options can improve readability and app navigation.
To turn on dyslexic font and/or high contrast mode in Sora, navigate to General settings under Sora's main menu and select Dyslexic font and/or High contrast under Display.
Note: Some ebooks don't have the dyslexic font display option.
Screen reader support
We follow WCAG guidelines to make Sora accessible. This includes skip links, alt text, labeled elements, logical tabbing order, and much more.
Sora should work with most screen readers, but we test on:
Android Accessibility Suite (previously known as TalkBack)
ChromeVox
JAWS
NVDA
VoiceOver
For more information about OverDrive and accessibility, please click here.